Hey Peace Family! Do you need help this Holiday season? Maybe you could use a hand with some work around your house or your yard, maybe babysitting while you Christmas shop, maybe making and delivering a meal during the busy holiday season? 
A Peace Youth student can help you and you can help them right back!
Our Holiday Helpers Fundraiser is happening now through the end of December and we are excited to help you out this Holiday Season! 
Holiday Helper shifts start at a $10 Donation per hour (that can be paid directly to peaceumcgiving.org/youth for Holiday Helpers) and the money goes directly to help the students with their Summer Mission Trip costs. 
Call or Text Heidi Hoopingarner (407-493-7080) with your need and she will match you with a student to be your Holiday Helper!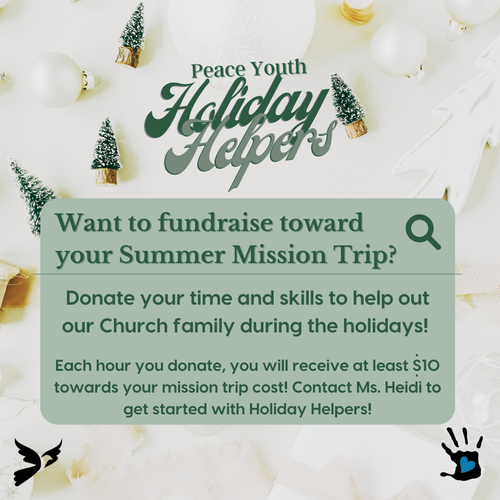 Peace Youth can Sign up for Holiday Helpers Shifts now!
Contact Ms. Heidi today to get started with Holiday Helpers and begin getting donations towards your Summer Mission Trip costs!
Contact Heidi: 407-493-7080